Talenten wedstrijd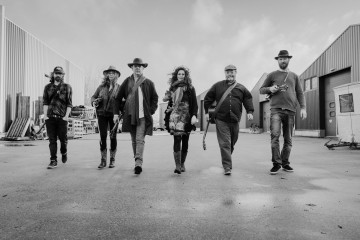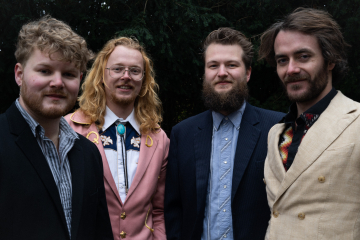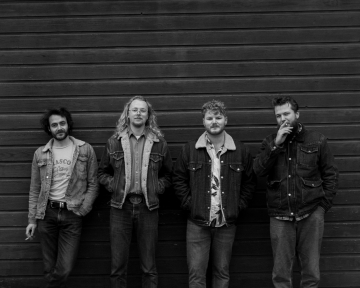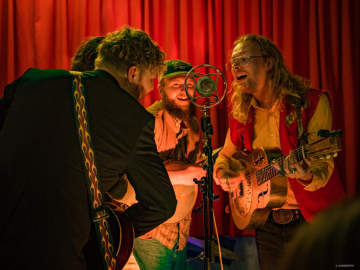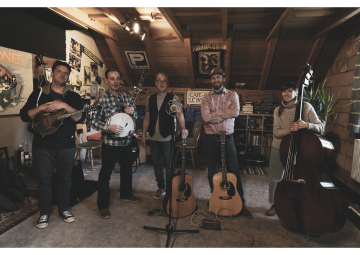 Talent contest
Proof that there is a lot of up-and-coming bluegrass talent in Europe, and certainly in the Netherlands, is the number of requests we receive from artists who want to play at the Rotterdam Bluegrass Festival. Our new location allows for a professional stage for tomorrow's headliners, who get to jumpstart their career right here in front of a guaranteed and interested audience. And to add to the attention value, a competitive element has also been integrated. A professional jury consisting of artists including Della Mae is going to judge up-and-coming bands and artists, and they have a chance to win the grand prize: a gig at the Rotterdam Bluegrass Festival 2024! The participants so far are Salty Strings, Them Peckin' Boys and Gosa Djux. Further additions will be made to this list.
Salty Strings
Salty Strings is a Texel-based bluegrass formation.
These Texel natives found each other at the musical intersection of genres such as bluegrass, American folk, country and Americana.
The experienced band members draw from various musical genres. This musical melting pot results in a sound unique to Texel. The voices and strings are key in the musical connection, with all band members contributing their vocal parts to explore surprising harmonic possibilities.
Through a repertoire of covers and some powerful original work, this Texel based formation will immerse you in a traditional bluegrass sound, topped off with the salty musical stirrings coming deep from the hearts of the islanders.
Songs by renowned bands such as The Dead South, The Steeldrivers and Carolina Chocolate Drops will be on the bill, but the band will also remain unfazed as they incorporate some surprising crossovers to folk and country music, all while preserving their distinctive salty sound.
Salty Strings is:
Casper Landman: guitar and vocals
Astrid Nauta: vocals
Simone Kip: fiddle and vocals
Michiel Dijkman: banjo and vocals
Pieter Duinker: mandolin and vocals
Hans van Veller: bass and vocals
Them Peckin' Boys
Them Peckin' Boys is a North Holland four-member bluegrass, folk and country band you can't miss! The band originates from the beautiful city of Haarlem and is made up of talented musicians who together put on a dynamic, well-rounded show.
Their lineup of a guitarist, two banjo players, a bass guitarist and four-part vocals make for an unforgettable live experience.
These guys will play a wide range of musical styles during their gigs, ranging from fast-paced rousing dance music to sensitive ballads and everything in between.
Not only does the band play music that they wrote themselves, they also play (well-known) covers, making sure the audience has a fun night regardless of age or musical preference. If you enjoy dancing, make sure your shoe soles are firmly in place, because the Boys know how to throw a party. Don't miss out!
Them Peckin' Boys are:
Hugo van der Voort: vocals and banjo
Quentin Dean: vocals and slide guitar
Joe Reinders: vocals and bass guitar
Wouter Swaalf: vocals and banjo
Gosa Djux
The members of Gosa Djux hail from different countries: Austria, Germany and The Netherlands. They all live in the beautiful Austrian town of Gosau am Dachstein, a village beautifully situated among mighty mountains with its beautiful pastures.
In this genuine "bluegrass" backdrop, the Gosa Djux have been making music together for years. In 2021, they recorded an album with the title Berlin, which was released on CD in June 2022. Don't forget about the singles on Spotify, YouTube, etc.!
The tracks on this CD are all original compositions with Dutch lyrics, sometimes with a nod to American traditionals. Live, that wink becomes an even sweeter one and they play those American traditionals and tunes from country, bluegrass and folk music wholeheartedly.
Indulge in a thunderous banjo, wicked mandolin riffs and riveting guitar solos. All this is joined by tight guitar rhythms, deep bass notes and feisty Dutch lyrics. Brace yourself for a mountain and valley ride with this mountain folk: the Gosa Djux!