Muziekworkshops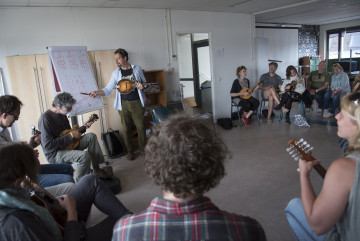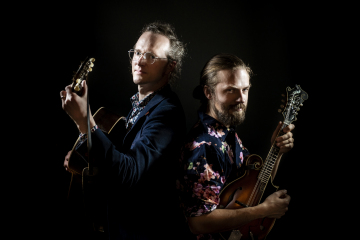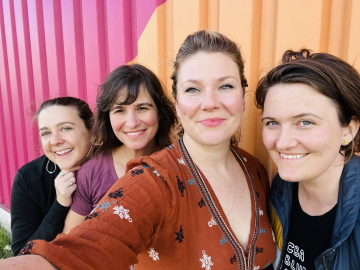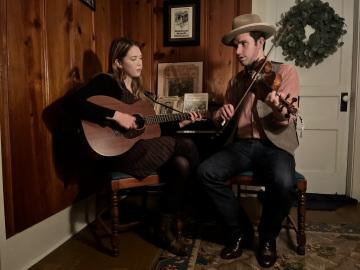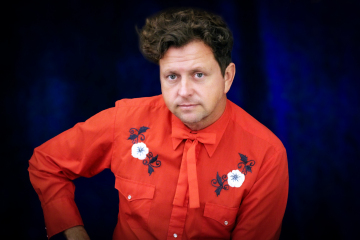 Music workshops
As an amateur or budding musician, of course it's great to see so many artists live. But how cool would it be to be taught some of the more delicate aspects of instrument mastery by those professional artists! The Rotterdam Bluegrass Festival enables amateur musicians of all ages to do so by attending workshops given by experienced pros. Just can't get that clawhammer under control, or is that fiddle not quite doing what you want? Join one of these inspiring workshops! Dutch musicians will have a unique opportunity to delve into the bluegrass genre, guided directly by world-class artists from abroad. You'll learn a lot as a musician, and the level of bluegrass music in The Netherlands will get an extra boost.
Michael Daves & Jacob Jolliff
In this workshop, Michael Daves and Jacob Jolliff will break down the tradition of bluegrass "brother duets", which usually feature guitar, mandolin, and vocal harmonies. They will perform classic examples from the Monroe Brothers, Jim & Jesse, Bill Monroe & Doc Watson, Skaggs & Rice and other notable artists, and delve into the background of each style and its historical context. They will discuss lead and accompaniment techniques, various approaches to improvisation in the duo context, and refining vocal blend. Workshop participants will also have the opportunity to pose questions and suggest songs.
Della Mae
Ride Old Buck to Water! Learn to Play and Sing an Old Time Fiddle Tune with Della Mae. Discover the old-time American fiddle tune "Ride Old Buck to Water" with Della Mae, an all-female Grammy Nominated string-band. Fiddler Kimber Ludiker's grandfather performed barn burner songs such as "Ride Old Buck to Water" for a quarter during the Great Depression. Festival-goers and music lovers will have a fantastic opportunity to explore the unique variations of string band music. While bluegrass and old-time music share some similarities, old-time music is more melody-focused, whereas bluegrass emphasizes improvisation. Bring your instrument (guitar, mandolin, bass, open back banjo, fiddle), or join in singing harmonies!
Length: 60-75 mins
Austin & Courtney Derryberry
Join Austin and Courtney Derryberry in a workshop exploring the authentic old-time fiddle and dance styles of Middle-Tennessee and the American South. The main focus of this workshop will be on those of Middle-Tennessee, and their cultural significance as interdependent entities. Austin and Courtney are accomplished and award-winning old-time musicians with deep roots in Tennessee, having learned from elder musicians and dancers in the region. They are dedicated to preserving the rich cultural heritage of their community through music and dance. Participants will gain a unique and immersive insight into the authentic old-time fiddle and dance traditions of the South.
Abe Partridge
Acclaimed singer-songwriter, ex-preacher, Abe Partridge launched the Alabama Astronaut podcast in September 2022, which quickly reached the top 10 most-listened documentary podcasts on Apple Podcasts. Partridge created the podcast with producer Ferrill Gibbs, and it details his two-and-a-half-year journey during the recent pandemic. During his journey, he discovered undocumented music played in churches in the American Appalachians where serpent handling is practiced (episode 1), which he experienced firsthand, with tied hands. Six podcast episodes later, the wrist-tying, serpent-handling preacher joined him on banjo to document this music or at least try to do justice to the songs.