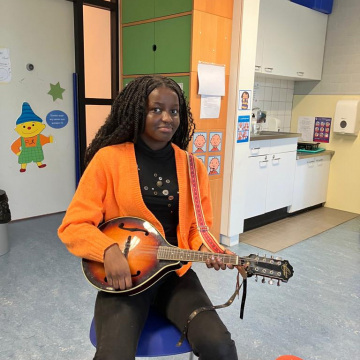 Thursday 25 May 2023 12:00
School project
In the Old North of Rotterdam, many children do not have access to cultural education. The Rotterdam Bluegrass Festival wants to change and contribute to this cause. Therefore the festival organizes valuable educational programs throughout the year. One of these, by now a tradition, is the opening of the festival by the bluegrass band made up of students from the Prinses Julianaschool. They get to take the stage on Friday of the festival at 3.25 p.m., armed with the ukuleles on which they have been practicing until their fingers hurt ahead of the performance under the guidance of musician Gijsbert Ditte. After all, for every musician, no matter how young, proper preparation is half the battle.
Teachers first determine which children of the elementary school in the Old North are interested. The approximately 10 children who are interested will receive weekly music lessons from professional bluegrass artists for three months, before forming a real bluegrass band. The performance at the festival, as the finale of the program, is of course the absolute icing on the cake. With this, children not only showcase their talents, but also demonstrate the multicultural character and diversity of the Old North.
The goal is to keep the students involved in the band for three years, but partly due to covid lockdowns, this is still in progress. It also happens that children themselves no longer want or can participate in the band. The children who do stay with the band make such tremendous steps in instrument mastery, which is awesome to see. If this project can motivate children to play an instrument, and keep them motivated, then it is well worth the effort.
photo: Natural talent Bien Aimee on mandolin.