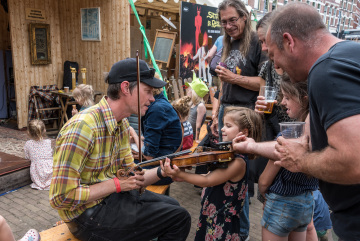 Tuesday 18 April 2023 11:00
THE FESTIVAL IS JUST TWO MONTHS AWAY
At the end of June, we will all be gathered at Noordplein to enjoy the sun, friends and of course, lots and lots and lots of good music. And boy, do we have music: with these new names, the festival's music programming is nearly complete.
new names:
Bertolf (NL)
Hola Ghost & The Haunted Horns (DK)
Sepand & Khorshid (IR)
Bashed Potatoes (DE)
Nice Like That (UK)
The Shiny Moonlit Boys (NL)
Leadbeaters (NL)
The Bluegrass Bandits (NL)
And the party doesn't stop there: Blue Grass Boogiemen, Aaron Jonah Lewis en Li'l Andy will each also provide their own set, next to their various other collaborations at the festival.
Although the music lineup is complete, we will be announcing theater, workshops, jam sessions, and other cool stuff in the coming weeks.