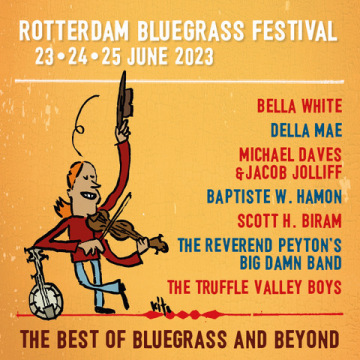 Wednesday 15 February 2023 11:00
First announcement of performers!
We are very proud and happy to share this preliminary, partial list of performers with you:
Abe Partridge (US)
Austin & Courtney DerryBerry (US)
Baptiste W. Hamon (FR)
Bella White (CA)
The Complete Recordings of Hezekiah Procter (CA)
Della Mae (US)
Fog Holler (US)
Madalitso Band (MW)
Michael Daves & Jacob Jolliff (US)
Moonshine Wagon (ES)
The Reverend Peyton's Big Damn Band (US)
Rosine Bluegrass Family (NL)
Scott H. Biram (US)
Truffle Valley Boys (IT)
We will soon be supplementing the program with more artists plus theater and children's activities, workshops, a jam area and more.
The daily schedule will be announced at the beginning of June. Also at that time, sales will start for single day tickets. Keep an eye on our Facebook/Instagram for the latest news!
SPOTIFY PLAYLIST
Want to get in the mood already? Subscribe to the Rotterdam Bluegrass Festival 2023 playlist... a great way to get your ears up to speed and to get ready for the festival.