Kinderen, theater en meer…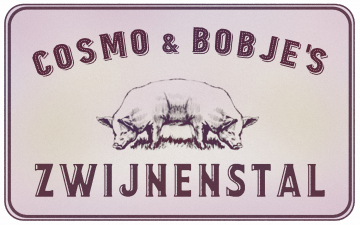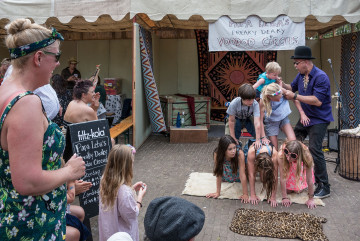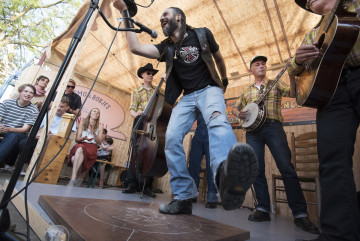 Kids, theater and more...
While it is almost impossible to imagine, if you have had just about enough of music, you can visit the children's area or the theater stage on the Noordplein. Extraordinary places where interaction between makers and audience is encouraged and appreciated.
Come check out the quirky corner of hosts Cosmo & Bobje, where theater, bluegrass and absurd comics meet. Children can clay, craft and build away to their hearts' content in the two tents of the Volkstheater.
On top of that, you'll find acts like Rotterdam belly dancer Soraya Sultan, magician Olivier Quist and Papa Leba Voodoo artist from the Old North on the Rotterdam Bluegrass Festival!
The Bluegrass Market
At the one and only Bluegrass Market you can not only find the latest americana CDs and LPs, but also vintage clothing that will put you in a nostalgic mood. The wee ones are not forgotten, as the selection of baby clothes is also plentiful. Hats, presents, a nice memento, there's no end to it. And when you need a relaxing moment between performances, you can go for a temporary tattoo or quick makeover for a little extra glam.
Food & Drink Heaven
Whether you feel like a cold beer or some soda, you will be served quickly and kindly. But if you fancy a hot beverage, there's plenty to choose from as well; a hot cup of coffee, tea or chocolate? No problem. Pulled pork sandwiches, sausages, hot dogs, nachos or tender chicken. Or fresh hand-cut fries with homemade mayo, and a delicious ice cream or American pie for dessert. All in all, at the Rotterdam Bluegrass Festival you will find food and drinks that will refresh your body and mind.