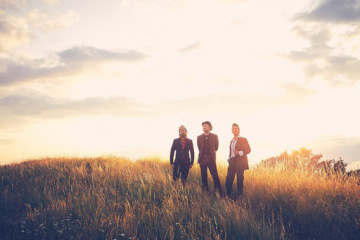 donderdag 25 februari 2021
Interview met The Yonderboys
nieuw Psychedelic folk Bluegrass trio uit Berlijn
Het Rotterdam Bluegrass kon ze helaas niet persoonlijk ontmoeten voor een interview in bijvoorbeeld een Berlijnse biergarten dus hebben we het maar online gedaan. Dat is niet alles. we hebben ook de nieuwste videoclip van de Boys op onze YouTube kanaal staan.
Hi Yonderboys! How are you keeping sane during this pandemic?
We are still writing and recording new stuff. The next new album is already in progress. Also, we are working with music video producers to hopefully make more videos and live recordings which will come out in the coming months.
Welcome to our Socials, would you like to introduce yourself to our public?
We are Yonder Boys, Berlin based Americana, psychedelic, folk trio. We are Jason Serious (USA), David Stewart Ingleton (AUS) and Tomas Peralta (CHILE). We have just released our first album entitled "Acid Folk". 10 songs that weave through American folk, bluegrass, world music and psychedelic influences and bring an exciting twist on what people conceive and expect from a typical bluegrass set up (banjo, guitar, mandolin, double bass) to sound like.
You all live in Berlin why did you choose that city to live in?
Berlin has always been a choice for artists and musicians to reside. There are many opportunities and much inspiration due to the amount of other artists and projects that are being conceived. It is also still very cheap. Which gives artists the ability to spend most of their day creating instead of having to work a full-time job and keep their passion as just a hobby or struggle to create due to the typical pressures, due to the price of living in other cities. Berlin gives us the room we need, physically and mentally, to be our best.
Is Berlin changing and if so in a good way?
It's not necessarily getting any better. The streets are getting cleaner and prices are going up. Neighbours are moving in and complaining about noise, and landlords are raising rent. The place is definitely not like it used to be in the 80's when Bowie and Nick Cave lived here. Gentrification is a word being thrown around a lot. But it is the truth. Berlin's rising rent prices have now had a cap put on them due to the prices going up way too fast for anyone to have the ability to pay. The rent inflation is literally out of control and the local government, so far, has done something to stop people from being thrown out on the street. So far!
Which key artists, and what was it about them, that made you say; I want to be a musician too!
We all have our favorites. The Beatles, Jerry Garcia and Captain Beefheart are some of our favorites. These artists are some that are very well known to have influenced many musicians already. They are all pioneers in their fields of music and what made us say "I want to be a musician too" was the way that captured our attention, compared to the millions of other musicians we could have heard in our lives.
The Beatles, because they created modern music and are the ultimate pioneers of the 20th Century. All of what we hear from modern music relates in some way to The Beatles.
Jerry Garcia, because of his innovation. Jerry loved Bluegrass and Folk music and played it for years in a Bluegrass formation. He then took it to the brink, changing it and evolving, using his influences, turning it into his travelling psychedelic rock show with The Grateful Dead.
Captain Beefheart, because of the experimentation. Listening to Beefheart gives you confidence as a musician. When you understand that there are no boundaries to what you can achieve with sound then you can really begin to feel free to write and be yourself as you do it.
Is there a good music scene for Bluegrass and Americana in Berlin?
There's a scene for everything in Berlin. No matter what inspires you there are people who will come to watch. Not necessarily a Bluegrass or Americana scene, but a scene thriving with Indie and Folk music lovers and musicians who love good music! You'll find us at all kinds of concerts also. The idea is that people are going to watch good music, no specific genres. Everyone is together and therefore not much room for purists. I put this down to it being a very young scene full of musicians who love experimentation and simply just good music. Irrelevant of the genre.
Some Bluegrass hardliners will say that the music that you are playing is not (pure) Bluegrass what would you say to them?
We agree, it is not Bluegrass. We have never said we are Bluegrass. We are using Bluegrass instruments and play music that would be more Americana with Bluegrass roots. If they do not like it, that's ok. We don't want or expect everybody to like what we do! We will never shut out people's critiques, whether they like us or not. We listen to what people say and take in all opinions. It will only make us better musicians in the end.
I enjoyed your latest album very much there were also some elements/ of techno/trance music which I found really nice is that the Berlin influence? a typical Berlin Bluegrass sound?
We are only sometimes adding some synth keys to tracks to add atmosphere. Rabbit Song for instance makes you want to move, that's for sure! But I'd say it's not the keys but actually the double bass that is doing that. Again, if we were purists, we would never be doing this. If it because we live in Berlin?... I doubt it. We are doing what we love, which is playing acoustic instruments and singing harmonies. We will also add sounds that we find will push the music in a way that is exciting for us. If we feel good about it, that's in essence all that matters. And usually, if you feel it moves you, then there will be an audience for you who enjoys it too.
Last question: Do you think that music is as close to 'God' as you can come?
Without a doubt it is the closest to that feeling of something that you can conceive as god - like. We are playing it because if we don't play music, then there would be no reason to live. We have found our passion and we are lucky enough to live from it. It gives you more than anything else in life can give you when you can express yourself each day doing what you love. It fills you with happiness and love. The world would be a better place if everyone could find this feeling and love each other for their differences, not criticize or hate each other for their differences. Purists are fine. Religious, Political, or Musical. But the acceptance of different ideas and the idea of "Love Thy Neighbour" is what God is all about.