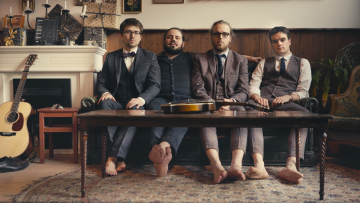 donderdag 25 februari 2021
Interview met Johnny and the Yooahoo's
een bluegrass band uit Mühldorf
Can you introduce yourselves?
We're a young bluegrass band from Mühldorf, Southern Bavaria. Johnny Schuhbeck on mandolin and vocals, brother Bastian Schuhbeck on banjo and vocals, Bernie Huber on guitar and vocals and Jonas Kollenda on bass. Starting out as a traditional inspired bluegrass band we're now trying to find our own sound as a mixture between the older first generation bluegrass elements and more modern folk / pop / progressive styles.
What brought you into Bluegrass Music?
We all grew up on 60's and 70's rock / folk / blues music. Johnny and I listend (and still do :) ) to lot of CCR and John Fogerty's first solo album (the Blue Ridge Rangers) got us into Country and finally into bluegrass music.
Who are your Bluegrass Heroes?
Defintely the Stanley Brothers. But also lots of modern groups like Mandolin Orange
How is the Bluegrass Scene in your hometown?
There is none :) We live 1 hour away from munich, there's a little bluegrass scene there.
With whom would you like to sing a duet and why?
Mentioning the Stanley Brothers earlier that probably would have been Ralph Stanley, my favourite tenor. But I guess I'd be kind of nervous..
With whom would you never sing a duet and why?
Hmm. I really dont know :) if there's some singer that I can't stand I don't listen to her / him
What is it like to be a young Bluegrass band in Germany?
You're kind of alone in your generation because there aren't many people that play this style if music. Still we're trying to bring people to bluegrass that haven't heard of it before. 'Yooahoo' is kind of a fantasy word that came from a youtube video that someone of our friends saw and the word got stuck with us as some 'exclamation of joy' Johnny was named leader of the band, because when we started out he was a shy boy, that didn't even want to sing lead or take a solo :) so, there's no 'meaning' behind the name, we had to come up quick for a first spontanious gig and the name stayed with us.
Bekijk hier de video's van Johnny and the Yooahoo's: