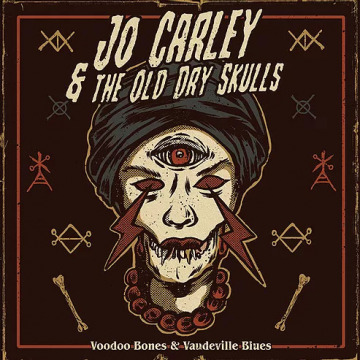 zondag 6 december 2020
Introducing Jo Carley and the old dry skulls
+Their new album: Voodoo Bones & Vaudeville Blues
Jo Carley and The Old Dry Skulls are proud to announce their brand new album 'Voodoo Bones & Vaudeville Blues' is released on the 4th December 2020. Twelve new songs that combine 1930's voodoo sounds with a steamy broth of vaudeville, blues, rock and roll, calypso, and old-timey country.
'Making deals with the devil never bodes well and sometimes voodoo antics backfire. A woman's innocent trip to the jungle ends with a witchdoctor tricking her into marrying him. In the dead of the night she steals his zombie poison and uses it to set herself free. She now possesses all of his magic and celebrates the end of their tumultuous relationship, but he doesn't go away easy. Now a relentless zombie comes to bother her every night, creeping around giving her fright. Is she still under his spell?
Voodoo has found its way onto the British shores and Jo Carley is the voodoo queen sent to predict hell in a way to entertain and amaze you. This demonic Music Hall mistress tells tales of terror in old-timey fashion. She is backed by her song-writing partner and husband Tim Carley, a man of considerable size who plays "syncopated rhythms to shake your soul" on a beaten up archtop guitar, kick drum and rattlin' shoe, with friend and fellow fiend James Le Huray providing the final ingredients of the spell, in the shape of double bass and banjo.
'Voodoo Bones and Vaudeville Blues' was recorded during lockdown in the bands tiny shack of a house on the East Coast of England. When the pandemic hit, they threw out the couch and the TV, turning their living room into a recording studio, laying down twelve new songs using only old school techniques and a few good microphones. There they waited out the Lockdown until they could mix and master the recordings to ¼ mono tape with Ed Deegan at Gizzard Recordings in London. This analogue and primitive way of recording totally captures the bands unique sound and the result is the bands most retro and authentic sounding record to date. Rooted firmly in a bygone era when Voodoo and Black Magic were rife, it has all the vibe, sounds and character of the old Blues, Old-timey Country, Skiffle, Calypso and Rock n Roll records that inspired them to make this album.
Order 'Voodoo Bones and Vaudeville Blues' now from www.olddryskulls.com and be sure to catch them on tour in 2021 all across Europe with Rootstown Booking.
Info bookings:
Rootstown – Kurt De Bont
+32 495 53 53 08 (phone & whatsapp)