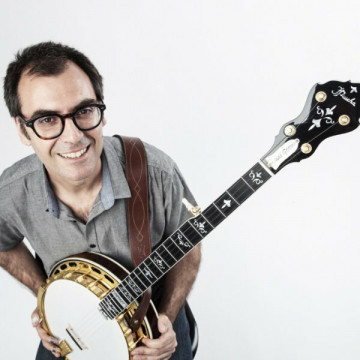 zondag 6 december 2020
Interview met banjo virtuoos Lluis Gómez
door Guido de Groot
Firstly, how are you keeping sane during this pandemic?
Well, difficult to answer, I guess as everybody all around the world, the pandemic affects all of us in different aspects, family, friends, job, etc., I'm ok, but some of my family have had corona. They're fine, but it was a difficult moment, and it still is, no possibility to play live, locally or around the world, I'm doing a lot of online lessons and working for some books for MelBay, also thinking about new projects for the future, especially with banjo legend Jean Marie Redon, working on a project we will announce soon.
Maybe, just one of the few positive things are the Zoom/Skype meetings I have with pals all around the world, especially with my banjo player pals from the USA.
What kind of Banjo (style) do you play?
Good question, when I started playing banjo here in Barcelona, there was no Bluegrass scene, so it was difficult to find musicians to play with and learn from. so I started playing a lot of Irish music, Blues and especially Manouche, These kinds of music were really popular, with jams and musicians, so my playing is a mix of my early influences as a listener and my experiences on musical projects. I don't consider myself as a straight Bluegrass banjo player, and I would love to play like Earl Scruggs or J.D Crowe, I play the standards, licks, etc., but never I played in a "real" straight Bluegrass Band, so something is missing, and I would like to play with this kind of band.
Because I write my own music, I consider myself as a banjo player who plays acoustic music.
What does Bluegrass mean to you?
It's a way of life. it is really important to me, most of my friends are musicians, and to me Bluegrass Means "family".
I love to go to festivals and meet friends make new friends and talk with people.
How did you first come in contact with Bluegrass Music?
The First album I listened to was "Banjo Paris Session" *, when I put the needle on the vinyl and then started the music, it was, uauhhh, what is this?!
I especially remember the tune "Mr.Glubo", a tune written by French banjo player Jean Marie Redon, and I have to mention that in Spain my generation and the one before discovered Bluegrass music thanks to this album.
* Banjo Paris Session Vol.1 [1975] - Various Artists Label: Cezame - CEZ 1005
Which musicians inspired you to start Playing Bluegrass music?
At the beginning it was Jean Marie Redon and the French scene, then I discovered this music came from the United States, we didn't have internet at that, hehe!!
There is the sound of; Earl Scruggs, Bill Keith, etc., inspired banjo playing styles, what is the Lluis Gomez sound/style?
As you mentioned there's the sound of Earl, Bill. I think it's really difficult to make an original or personal sound, all of us follow somebody, Tony Trischka, Béla Fleck, etc.…so my sound is a combination of my heroes like Redon, Trischka, Keith and of course Béla, also I have to mention that I listen to a lot of music, so other influences are Manouche, Bebop or Classical music.
What tips can you give people who want to start playing the banjo?
Go to the basics, learn Scruggs style. A lot of new people are coming to me and they want to learn to play like Noam Pikelny, that is really difficult. Think about people like Fleck, Trischka or Pikelny, they all started with Scruggs. Béla at one part of his life was learning the style of J.D. Crowe and you can watch YouTube videos of him playing with Spectrum or Tasty Licks, his playing is really straight!
So, play rolls, and rolls, like a violin player work a lot on his bow playing with open strings, so just rolls with open strings.
Is there a big Bluegrass scene in Barcelona?
Right now, yes, we have an association called Al Ras that promotes a festival, a Bluegrass Camp, jam sessions and also organizes concerts and workshops for a musicians who come to Barcelona.
If I would visit your city where can I go (when this pandemic is over) to listen to good live Bluegrass music?
The jam sessions are in the neighborhood of Gràcia, and the place is called "La Sonora de Gràcia" we also organize concerts there.
You played the Rotterdam Bluegrass Festival with the Barcelona Bluegrass Band, which was a great show, I thank you for that! When you started playing the rain stopped so how do you influence the elements with your Banjo?
I remember that moment, hehe, it was like to be in Woodstock with the famous, "no rain, no rain!" hehe, and there was another magic moment, we were playing a tune "Salviac" an original tune really influenced from Redon Classical and Musette music, there's a part really Bach, when we played there was a girl screaming really excited, and I thought, uauh, I love this audience, they appreciate any kind of music played on banjo, so yes, banjo influences the Elements!!
Last question: Do you think that music is as close to 'god' as you can come?
Well, religion is really personal, and we can talk a lot about this, personally I'm not a religious person, but when I listen to Bach is the only moment, I think maybe God exists hehe!! Yes, music and any kind of art is an expression that helps our pass thru life much better.



Wil je meer weten over Lluis gómez kijk dan op: